Food Review: Hotel Cielo Rojo
January 28, 2012

Categories: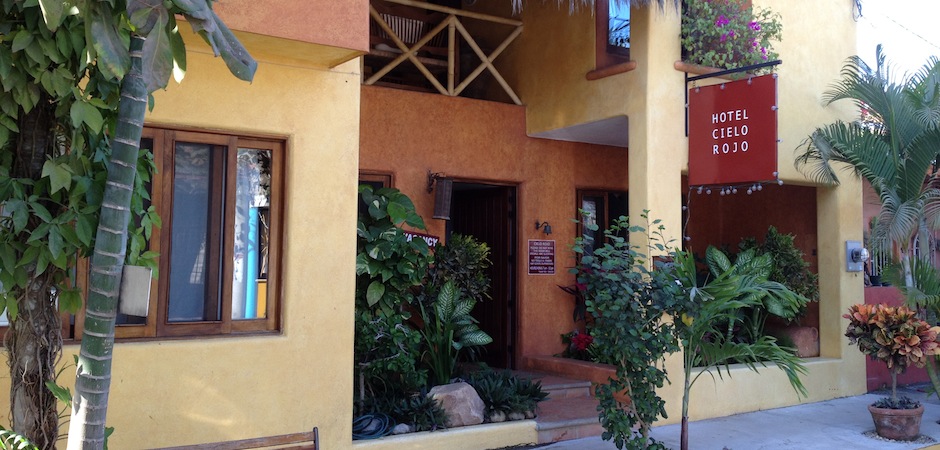 Establishment: Hotel Cielo Rojo
Location: Upon entering town, go past the park on the left on the main street and take a right at the sign pointing to the hotel.
Menu: Organic local fare prepared in modern mexican style
Cost: Approx $25 USD per entree
Stars: 5 out of 5
Impressions: Superlatives fail in describing the cuisine at Cielo Rojo. The four of us arrived hours before dinner, and the staff kindly seated us and offered beverages from the bar. We opted for the house speciality – basil mint mojitos. The bartender hand mulled the basil and fresh peppermint and the result was outstanding. It is easily the best mojito I've ever had – and we all agreed to stay for dinner. While we sat in the picturesce patio – we watched the chef hand making the fettucini and baking bread for the dinner hour. If we hadn't had our minds made up to stay for dinner by then, the smells from the outdoor kitchen would have caused us to do so.
I opted to make 3 appetizers my meal, while the other three of us decided to each try a different entree. I opted for smoked Marlin tacos, a molcajete bowl of fresh, wild mushrooms and a platter of local artisan cheeses. Each of the appetizers were large, and I'm glad I didn't opt for a fourth appetizer! The Marlin was lightly smoked and not salty, and the freshness of the fish was evident in each bite. I'll confess I've not eaten much Marlin before, but my impression is that I was treated to some of the best. The molcajete bowl was large, and stuffed with a variety of mushrooms. This truly could serve as an entree, and the flavor and texture combinations exceeded any expectations I had. The last "appetizer" was the platter of cheese, which I was thankful I saved for last. Five separate varieties were presented on top of fresh apples, garnished with a variety of olives. Subtle flavors were present in each of the cheeses and the textures truly deserved the 'artisan' description on the menu.
While I was in appetizer heaven, warm fresh baked bread was served to the table and we all took turns dipping it into oil and balsamic vinegar. The generously sized spinach salad arrived shortly afterward. The ensuing "oohs" and "aahs" gave me the impression that it was as fresh as it looked. Shortly afterwards, it was time for entrees. Fresh fettucini with olives, mushrooms, baby tomatoes cooked in light olive oil arrived across the table. (the chef's usage of oil vs. cream made this meal delightful) To my right, enormous prawns cooked in coconut oil garnished with fresh coconut flakes drew rave reviews, and to my left – fresh Mahi-Mahi garnished with baby pumpkin seeds, dill and homemade rice did the same.
It almost goes without mentioning that we ate far more than we thought we could. By the time we sampled the mousse, we were too stuffed to order any. (our only dissapointment) Collectively we agreed it was one of freshest, most outstanding meals we have had in a long time. I'd recommend any visitor to San Pancho start their culinary journey here. The staff is friendly, the atmosphere romantic and warm, and the food unbelievable. The only true challenge is attempting to convey just *how* good it all is. Suffice to say, we're going back for the mousse before we return home…